Tickets are $55 and will be available at the door
Saturday, July 30, 2022, 4 to 9 p.m. at the Cornish Playhouse
Lobby and Courtyard at Seattle Center
Tickets and donations are are handled by Shunpike, our presenting partner's secure-transaction Click and Pledge online portal for our Reunion event. You will receive an email receipt for your tax-deductible donation.
Event tickets and tax-deductible donations. All involved with organizing this event are volunteers! Your ticket purchase helps cover the costs for our venue rental (yay, we're supporting local theatre peeps!), and great food from Tuxedos and Tennis Shoes, entertainment from some of your favorite Space Cadets, and the wonderful opportunity to share great memories. We'll have a cash bar with wine, beer, cider, and mixed drinks.
All net revenue from tickets and donations will allow us to make a donation to help maintain the Empty Space Archives at the University of Washington. You can make your donation here.
About the Event
Traffic and parking info
While most of us are familiar with parking around Seattle Center, please plan ahead, parking will be tight.
"Pirates of Penzance," performs from 2 – 4:15 p.m. at the Bagley Wright Theatre. The Seafair Torchlight 4K Run starts at 6 p.m. around the corner from the Playhouse. The Torchlight Parade is staging on Mercer. And there is a sold out concert in Climate Pledge Arena. None of which was on the schedule when we booked the Playhouse months ago!
It's best to approach Seattle Center from the west. You can also take light rail downtown and hop the Monorail.
Here's a map and link for Seattle Center parking info.
ADA access: Seattle Center staff will ensure that the route into the ADA parking between the Bagley Wright and the Playhouse is clear. (Parking not guaranteed; first come, first served.) The best route is to turn south on 2nd Ave N. from Roy Street and cross Mercer. You can drop off guests who can enter the lobby at that level and take the elevator to the first floor, or follow the sidewalk to the east entrance of the courtyard.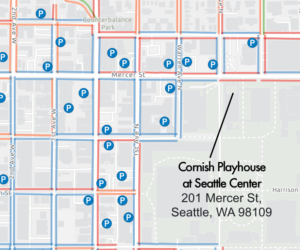 What's happening!
Throughout the evening: check out photos, design renderings, posters, programs, and more, displayed both physically and in video around the lobby.
4 p.m.: No-host bar's open and snacks are out
5 p.m.: Tuxedos and Tennis Shoes has the full spread ready
6 p.m.: Open mic! Get your 90 second reminiscence ready for the spotlight
7: p.m.: Music from the Empty Space (check out the plans below!)
8: p.m.: Open mic! Okay, you've had a drink or two…let's hear your 90 second story
8:30 p.m.: Last call at the bar
9 p.m.: Hugs and farewells
Entertainment: Music from the Empty Space!*
Ronnie Bwana – Jungle Guide: Jungle Melody, Tango de la Luna; The Day They Came From Way Out There: They Came from Way Out There, Burnt Angel; Vera Wilde, Song; A Final Evening With The Illuminati: Jesus Was a Lutheran; Mandragola Unchained: How Can It Be Wrong; Rodeo Radio: The Ranger Bill Theme Song; Wuthering! Heights! The! Musical!: The Opening; Iggy Scrooge: Heart of Fire
Performed by: Eric Ray Anderson, Tony Curry, John Engerman, Theresa Holmes, Chris Jeffries, Edd Key, Joanne Klein, Lori Larsen, Eddie Lee, Joy Lee, Rex McDowell, Jayne Muirhead, R. Hamilton Wright, Phil Shallat, Dan Tierney
*The fine print: in true Empty Space tradition, program and performers subject to change
If you have any questions or concerns, please send an email to
EmptySpaceSeattle@gmail.com. We'll get back to you ASAP.
We are looking forward to seeing you.