TICKETS ON SALE NOW
The Empty Space Reunion
Presented in partnership with Shunpike!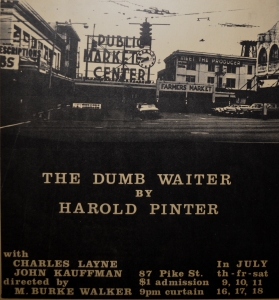 Yes, it is! The Empty Space Reunion Gang is plotting a wild and woolly celebration to engage everyone who worked, volunteered or was a big fan of the Empty Space.  The 50th Anniversary of the Space's founding in 1970 was postponed in 2020.  We're back on with a fun celebration.
We're On! **
SATURDAY, JULY 30, 4-9pm at Cornish Playhouse
Lobby and Courtyard at Seattle Center. 
Our Reunion presenting partner, Seattle non-profit Shunpike.org provides business services, ticketing and donations for Washington State organizations.
Have a story or photo to share? 
As part of our celebration, we're collecting stories and photos to publish as a free souvenir of our time at the Empty Space Theatre. There are so many and you have a good one to tell!!  To learn more, click HERE.
You've got to be there.
This event is all about you and the stuff that made us all sensational at a famed Seattle landmark.  Many details are shaping up in the days and weeks ahead.  Stay tuned. 
Your Empty Space Reunion Gang:
Burke Walker, Eddie Levi Lee, Karen Bystrom, Brian Branigan, Kurt Beattie, Jim Royce, Karen Gjelsteen, Jeff Robbins, Anne Stewart,  Kevin Hughes, and Shunpike.org
Sign up for our email list and we'll keep you in the loop.
If you already signed on, you're on the list and will be included in all future updates.
Let your fellow Space Cadets in on the sweet news. They can sign up too.
** The fine print: We're optimistic this event will happen and need all to be safe.  Proof of vaccinations and boosters are required.  With the possibility of the Covid BA.2 variant becoming virulent, we will follow all Seattle and King County rules for gatherings.