The show must go on, the show will go on….
…just in the Summer of 2021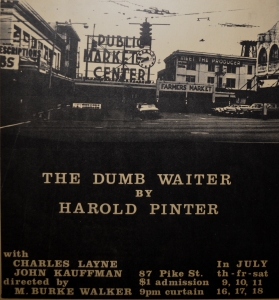 First, we hope that you and yours are safe and well!
Considering the combination of the uncertainty of where the world will be in July 2020 and the knowledge that many of us are experiencing employment and financial changes, we are very sad to announce that we will postpone our reunion until next summer.
So we do hope you'll be able to join us for the 51st Anniversary Reunion. We will be in touch as we learn more, but will begin serious planning in January 2021.
In the meantime, we want to continue to build out our Empty Space legacy website. If you have digital files that we can add to the site, let us know. If you want to mail hard copies, we'll figure out who should get them – but let's hold on that until its a bit safer to get mail!
You can stay in touch with us by using the Contact form on the website or by sending an email to emptyspaceseattle@gmail.com.
Also, as you talk to former Space Cadets, tell them to go ahead and sign up for email updates on the website.
Take care and we'll be in touch.
Your Empty Space Reunion Gang
Sign up for our email list and we'll keep you in the loop over the next year!
If you already RSVP'd for this July, you're on the list and will be included in all future updates.