Empty Space Theatre, Seattle, 2020 Reunion
Celebrate the 50th Anniversary of the Empty Space Theatre's very first production in 1970 and the extraordinary artistic legacy of the theatre's 36 years in Seattle.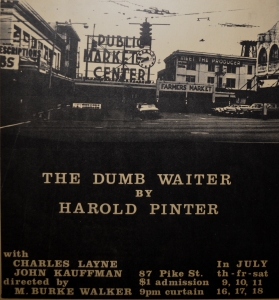 The Dumbwaiter by Harold Pinter opened in the Pike Place Market Theatre on July 9, 1970, directed by M. Burke Walker and starring Charles Layne and John Kauffman.
We are gathering in Seattle for the first – and last – reunion, to share memories and catch up with as many of the Space Cadets as possible.
July 10 & 11, 2020, times TBA (hey, what's more "Empty Space" than "To Be Announced?")
Floyd and Delores Jones Playhouse, the former Glenn Hughes Playhouse, 4045 University Way
The fine print: we are going to ask folks to chip in at the event to cover the cost of food and drink. Once we know how many people we expect and have an estimate on costs, we'll let everyone know what to expect.
Help us spread the word and share news with your Empty Space friends and colleagues.
RSVP using the form below, and we'll send you more details as plans are confirmed. Unable to attend but want to stay in touch? Fill out the form and we'll keep you in the loop.