It's happening this summer in July 2022
The Empty Space Reunion
SAVE THE DATES!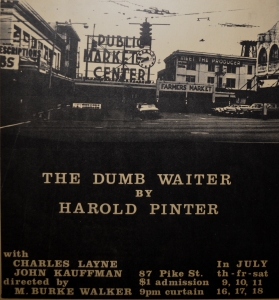 Yes, it is! The Empty Space Reunion Gang is plotting a wild and woolly celebration to engage everyone who's ever worked or volunteered at the Empty Space. 
SAVE THESE DATES! **
SATURDAY OR SUNDAY, JULY 23, 24 OR 30, 31 
We have it on sterling authority that ONE of these four dates is a sunshine winner for a day or evening event, at a special place to be announced soon.  We can't wait to tell you.
You've got to be there.  Bring your silly memories and torrid stories – those secret tales that made the Space more than just an adventurous theatre company.  This event is all about you and the stuff that made us all sensational at a famed Seattle landmark.
Many details are shaping up in the weeks ahead.  
Your Empty Space Reunion Gang
Sign up for our email list and we'll keep you in the loop.
If you already signed on, you're on the list and will be included in all future updates.
Let your fellow Space Cadets in on the sweet news. They can sign up too.  
** The fine print: We're optimistic this event will happen and need all to be safe.  Proof of vaccinations and boosters are required.  With the possibility of the Covid BA.2 variant becoming virulent, we will follow all Seattle and King County rules for gatherings.